I stumbled upon the Reluctant Entertainer blog and started reading her posts on perfectionism and entertaining.
I think so many of us women aspire to be Martha Stewart with perfect everything that when we fall short, we feel inadequate.
I liked what I saw on the blog and so I ordered the book.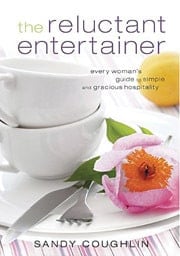 It is a beautiful, hardcover book with gorgeous, glossy pages.
Sheer pleasure for a tactile girl like me!
I'm also very visual and I loved looking at all the photos of food and of easy ideas to decorate your table.
Basically, I'm terrible at reviewing books because I take no notes but I have put some stick-e-tags to mark off the things that spoke to me.
Here they are:
"get out of the jail cell of perfectionism by asking yourself, "am I having people into my home to impress them or to bless them?"
(Like Sandy, I also believe perfectionism is a jail cell that will keep you in bondage)
"Authenticity is honest and doesn't try to needlessly impress others. And the great thing about being authentic is that it attracts other authentic people – those who are soulful and who make the greatest friends"
(authenticity is one of my highest values)
Some of my take aways:
I love how she says that when you apologise profusely for things (food not being perfect, this not good/ that not good, etc.) you make your guests feel uncomfortable. I will stop doing this immediately 🙂
I also love how she tells people to figure out your style. If you're a relaxing brunch type of gal, go with it. It doesn't all have to be supper! Who knew?
We used to have people over for suppers in the pre-twins days and now I honour their sleep (after waiting for it so long!!!) so we don't have people over in the evenings. I'm now a lunch-time person. But I've been freed to have people over for tea and muffins and not feel guilty about it.
Sandy says, "true hospitality is not about being perfect, cooking a fancy meal or spending a lot of money. Rather, it's about an open door and an open heart."
Amen to that!
Are you a reluctant entertainer who is trapped in perfectionism?
Do you know your entertaining style?
P.S. If you related to anything I said, either get the book or subscribe to her blog (there is so much insight in the comments too).
P.P.S. I'm not being paid to write this review. She doesn't even know I exist 🙂